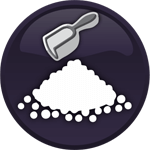 Raws-Bicalumatide
1 gram - International shipping ----- (97#)
99595 in stock
Stealth International -> Raws
Product number:57042
-1g
US$ 1.39 ~ US$ 2.0
Wholesale price:
1 ~ 99
100 ~ 999
1000+
US$ 2.0
US$ 1.8
US$ 1.39
Bicalutamide belongs to the group of medicines called antiandrogens. It works by blocking the effects of testosterone (a male hormone), which helps stop the growth and spread of cancer cells.

Bicalutamide is approved for and mainly used in the following indications:
Metastatic prostate cancer

(mPC) in men in combination with a gonadotropin-releasing hormone (GnRH)

analogue

or surgical castration at 50 mg/day

Locally advanced prostate cancer

(LAPC) in men as a monotherapy at 150 mg/day (not approved for this use in the United States)
In Japan, bicalutamide is uniquely used at a dosage of 80 mg/day both in combination with castration and as a monotherapy in the treatment of prostate cancer.
Bicalutamide is also employed for the following off-label (non-approved) indications:
To reduce the effects of the testosterone flare at the initiation of GnRHagonist therapy in men
Androgen-dependent

skin

and hair conditions such as acne,

seborrhea

, excessive hair growth, and scalp hair loss in women as well as high testosterone levels due to polycystic ovary syndrome (PCOS) in women, at 25 to 50 mg/day generally in combination with a

birth control pill

Feminizing hormone therapy for

transgender women

in combination with an estrogen usually at 50 mg/day

Peripheral precocious puberty

in boys at 12.5 to 100 mg/day in combination with an aromatase inhibitor like anastrozole, especially for familial male-limited precocious puberty (testotoxicosis)
Overly long-lasting erections in men at 50 mg per week to 50 mg every other day
The medication has been suggested for but has uncertain effectiveness in the following indication:
Hypersexuality and paraphilias, particularly in combination with chemical castration
For more information on these uses, see the medical uses of bicalutamide article.